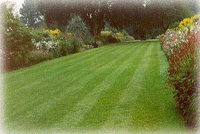 Landscape Design and Maintanence
Services available include lawn mowing and trimming, weed abatement, lawn dethatching and aerating, reseeding, transplanting, fertilizing, shrub trimming, and more. Don't ever underestimate the impact your landscaping has on the value of your property.

Mowing patterns will present a neat professional appearance. Trimming will be done around trees, bushes, fences, flower beds, and all raised curb areas when a mowing occurs. Concrete driveways and sidewalks will be edged with a blade edger or string trimmer. Resulting clippings and waste will be removed.